Life has never been more demanding for soccer's governing bodies. Interest in the global game is at an all-time high, giving administrators a major challenge – to ensure soccer continues expanding in new markets and attracting new players, without alienating its traditional heartlands.
Fortunately, help is at hand. Technology gives governing bodies the tools to plan for the future and disseminate their strategies to key stakeholders at club and academy level. Read on to find out what we can do for you, and why it's so important.
How the needs of soccer governing bodies are changing
Soccer now enjoys more attention than ever before. The Fifa World Cup is matched only by the Olympics in its global reach, with 3.2 billion people watching at least one minute of TV coverage from Brazil 2014.
The game's popularity is on the rise in several markets, from China to the US. According to Gallup, interest in the sport tripled in America between 2008 and 2018. Much of this growth is down to Millennials, among whom soccer is the country's joint second-biggest sport – level with basketball and ahead of baseball.
With fan numbers continuing to grow, there is a unique opportunity for governing bodies to encourage more people to play the game. Indeed, participation in US high school soccer increased by 13% from 2009-10 to 2017-18.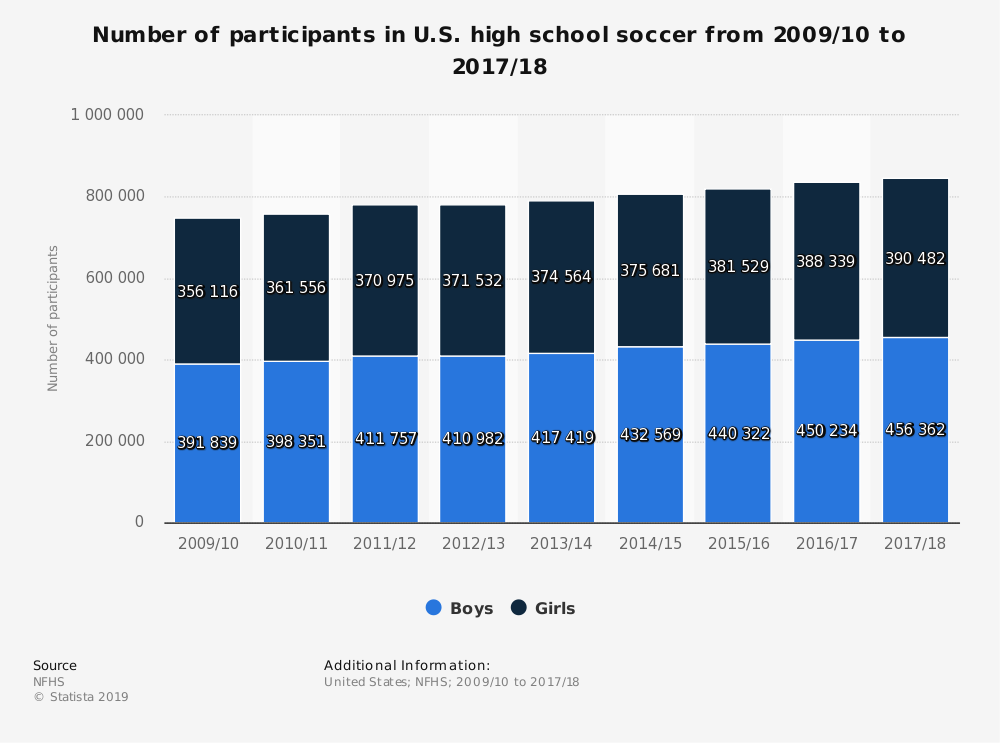 But this also brings problems for the game's administrators. With more people playing soccer, it becomes ever more difficult to ensure a consistently high experience across all clubs and academies. How can you be sure that players are being coached to the same standard?
How The Coaching Manual gives you the tools to adapt
That's where The Coaching Manual comes in.
Our suite of software tools makes it easy for governing bodies to plan future strategy, safe in the knowledge that their plans can be disseminated far and wide at the click of a button. Read on to find out exactly what The Coaching Manual can do for you.
Deliver and distribute coaching curriculums
With governing bodies having overall responsibility for scores of clubs and academies, not to mention potentially thousands of coaches, there's always a risk that players are receiving vastly different messages and standards of training.
While there needs to be room for individual creative expression within the beautiful game, it's important for the development of the next generation of players that their coaches understand what's expected of them. With The Coaching Manual, this headache becomes far easier to overcome.
You can quickly and easily build bespoke coaching curriculums using our Season Planning tool. It takes just seven steps to build a season plan from scratch with our software – just give us a few simple details (such as player age, and the day and time of training sessions) – and we'll do all the hard work for you.
Once we've created your plan, use our interactive calendar to drill down into the sessions scheduled for each date.
Store, manage and share coaching content via a bespoke website
Creating coaching plans is important, but it only works if the relevant people know where and how to access them, and understand what they mean.
Again, The Coaching Manual makes this easy. Because our interface is fully customisable, it's simple for our development team to build your organisation a tailor-made platform to create, save and share all of your coaching content. By adding members, you can be sure that all stakeholders are able to access the necessary information wherever they are.
But what if you simply don't possess the right collateral? We can help with that too! Our content team are on hand to integrate high-quality resources from our exhaustive content database into your own coaching plans.
Leverage quality content from our expert partners and contributors
However well the clubs within your organisation are run, they won't be truly successful in developing players if they don't have access to quality coaching content.
Once again, we're in your corner. Our content hub is packed with full coaching sessions developed by some of the most highly respected thinkers in the game, including video-based sessions from the professional soccer academy that produced the likes of Gareth Bale, Adam Lallana and Luke Shaw. Whatever age group you're working with; whatever the ability level of the players; whatever soccer skill you're looking to nurture; you'll find the answers in our content library.
From Southampton Football Club to the American Youth Soccer Organisation, we work with our strategic partners to ensure that the coaching content we offer will benefit young players now and in the future.