Massachusetts-based BEST FC are the latest premier soccer club to partner with TopTekkers, helping develop their young players and allowing them to reach their full potential.
TopTekkers is the new app from The Coaching Manual, which allows young players to practice and develop their fundamental football skills, while allowing coaches to set tasks and monitor their progress.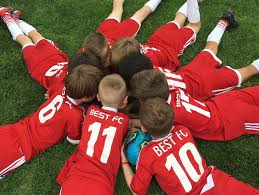 BEST FC is a soccer club in Westborough, MA, and has been around since 1999. They compete with some of the finest youth soccer clubs in the New England region. They have a youth academy with enrolment of more than 500 players and 32 teams that compete in the NEP.
BEST FC's Director of Coaching Paul Mumby said: "BEST FC is very excited to partner with TopTekkers and provide our players with a great tool to help them become self-directed learners. TopTekkers connects our young players with great technical insight outside of training sessions, used effectively it will help our players become more confident on the ball, raise self esteem and develop an intrinsic motivation for practice.
"BEST FC is committed to providing our players, coaches and families with the very best tools and resources to enhance their overall soccer experience. We are excited to partner with TopTekkers and The Coaching Manual so that our BEST people get better together."
The Coaching Manual founder Terry Barton said: "We worked hard for a long time to create TopTekkers. It's a product which we believe is vital for modern soccer education, because it will help to stop the current downward trend in players' technical ability.
"The fact that BEST FC have chosen to implement TopTekkers within their programme demonstrates to any current BEST FC member - or prospective parent - that they genuinely care about the development of their talent and that they are prepared to be innovative in their approach."
BEST FC join a list of clubs around the world that have already installed TopTekkers into their youth development plans - including grassroots teams as well as those playing in the English Premier League.
The teams at BEST FC range from ages 8–18 and they also have a youth academy program for soccer players ages 5–9 years. The club designs specific training programs dependent on the player's age and skill levels. The BEST club prides themselves on being very selective it hiring and training their coaches; coaches are highly qualified.
The club also utilise The Coaching Manual's original product - The Coaching Manual app - which gives them access to top-level training content and the functionality to plan their sessions and seasons with the click of a button.
Paul said: "Partnering with The Coaching Manual has allowed BEST FC and BEST Soccer to streamline our player development curriculums and provide coaches and partner organisations with tools, resources and ideas for all tasks of coaching. The Coaching Manual has great content for all ages and abilities and the ability to share content allows our coaches to effectively collaborate and align on programs delivered with multiple coaches."
Watford FC fan Paul added: "Through the use of TopTekkers we will be able to develop the next Ismaila Sarr of this world!"
Get TopTekkers today - visit www.toptekkers.club