This week, The Coaching Manual announced the latest big name to join its series of hugely-popular webinars, Landon Donovan. Here we take a look at the less-than-typical career of a man who is still subverting conventions today.
Donovan, an AYSO alumnus, started playing soccer at the age of two in Ontario, California, after his older brother, Josh, introduced him to the sport.
A member of the inaugural class of the US Soccer youth residency program, Donovan was named Player of the Tournament for his role in the United States under-17 squad that finished fourth in the 1999 FIFA U-17 World Championship.
He began his professional playing career at Bayer Leverkusen in Germany, where first-team opportunities for became few and far between for a teenaged Donovan at a time when Dimitar Berbatov and Oliver Neuville were cementing their strike partnership.

However, eyebrows were still raised in 2001 when Donovan, a hot youth prospect at the time, opted to relinquish the European opportunity that so few of his countrymen are offered at the time, in favour of a move back to the USA.

While still under a long-term contract with Leverkusen, Donovan spent four successful years on loan at San Jose Earthquakes in California. His strike rate of 37 in 82 would have no doubt translated into a solid goal return at many a European arena, but when it came to securing his next permanent move, Donovan opted for LA Galaxy.

It was at the Dignity Health Sports Park that Donovan would become a club legend - scoring 113 goals in two spells for Galaxy - while his 157 caps and 57 goals for the USA national side helped to cement his place as US soccer's first true household name worldwide.

Later in his career, English Premier League fans will remember Donovan fondly from two successful loan spells at Everton, where David Moyes' decision to deploy the American as a winger produced a healthy return of six assists and two goals in 17 matches.

On growing up in a country where soccer-loving peers were few and far between, Donovan told the Guardian "I knew nothing about world soccer, I just liked playing the game. So there was no, 'Oh, if I could play for Manchester United' – that never came into my head."

So without a career path in mind, potent performances at youth tournaments saw Donovan picked up by Bayer Leverkusen in 1999. Quickly becoming restless due to lack of opportunity, the starlet made the decision to hop back over the Atlantic Ocean for all the right reasons.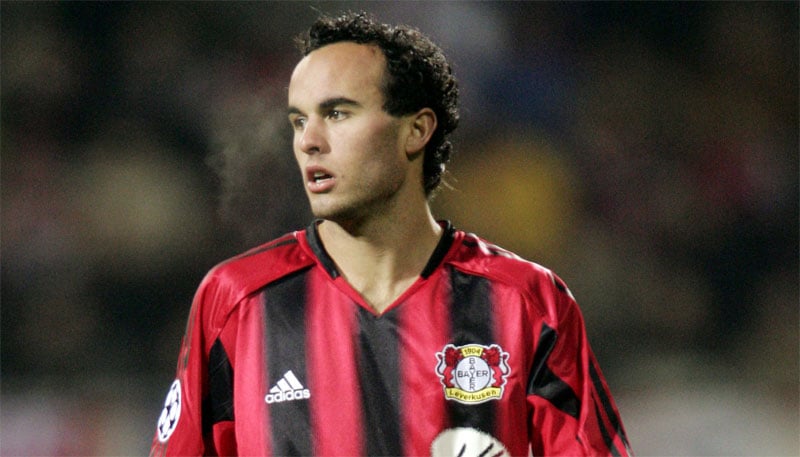 "I was just doing what my gut was saying, which was like, 'Landon, you need to play soccer.' I didn't care about playing at Bayer Leverkusen – they were in the Champions League and all this – I didn't [care], I just wanted to play soccer. So I'm glad I got out of there as quickly as I could, because I wanted to play. I needed to be happy."

Already a big name in the USA for kicking a ball on the same continent as Zinedine Zidane, Rivaldo, and Luis Figo, Landon Donovan's move back to the states was met with disillusionment by those who saw him as a torchbearer for US soccer in Europe.

"Since I was 16, everything was planned for me," he told the Guardian. "You were told what to do, when to do it and how to do it. That's all I knew. So at some point I had this light – like, wait a minute, I can have my own ideas and make my own decisions. That was really powerful. … Now I really try hard not to just accept everything as society says it's supposed to be."

It is this path-treading maxim that has seen Donovan continue breaking conventions into his managerial career.

At the end of last year, he was appointed Head Coach of expansion side San Diego Loyal for their inaugural season in the United Soccer League (USL) - the second tier of US soccer.

When Donovan set out to assemble the first coaching staff in the history of his new club, he didn't choose a former team-mate or coach; he asked Carrie Taylor - a former Youth Club director Donovan worked with on a bid to launch a San Diego-based MLS club few years prior - to be his right-hand woman.

Taylor is the first female coach in all of professional men's soccer in the United States, and will feature alongside Donovan in The Coaching Manual's webinar tomorrow (April 21, 11am PT / 5pm UK) on 'Developing a Club Philosophy'. Click here for more information.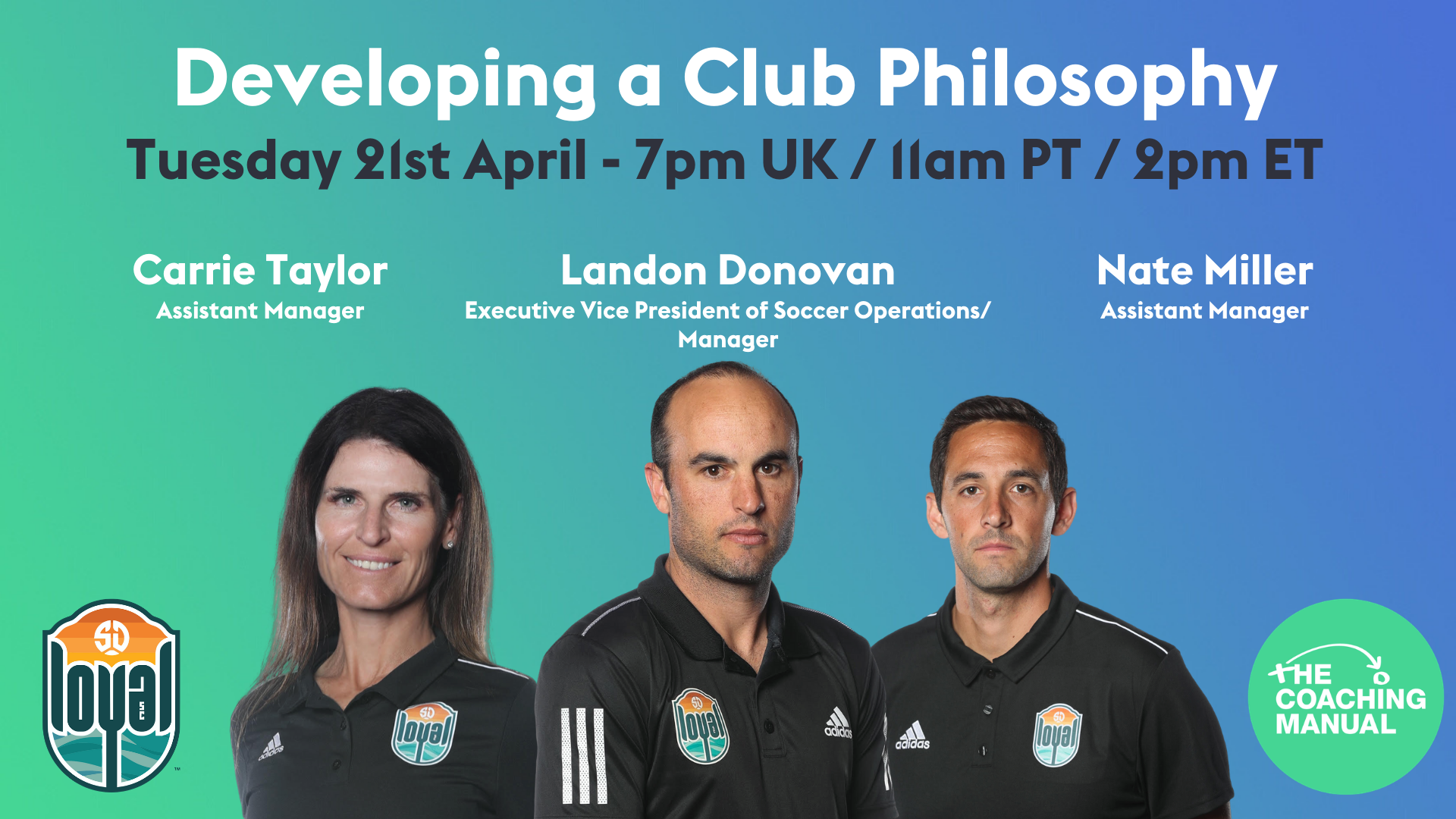 This will be Taylor's second appearance on a TCM webinar, having featured in the 'Pathway for Female Coaches' webinar earlier this month to resoundingly positive feedback - that can be viewed in full here.

"I want to be seen as a coach, and not necessarily a female coach," Taylor told FIFA.com recently. "I understand it's new and it's been starting to happen in other professional sports, so I'm proud of our organisation for being forward thinking.

"If Landon is willing to be a pioneer in hiring a female coach, that's awesome, so maybe some other coaches out there will follow suit.

"I hope that it allows others in positions to hire people to at least take a longer look at resumes of people that aren't males - just take a look and make a decision on what suits your organisation. Men have always been able to coach women, so why can't women coach men?"

Also hired as Assistant Coach is Nate Miller, who Donovan describes as being "a priceless addition to our staff",who has "demonstrated throughout his coaching career that he embodies the values of SD Loyal."

Miller joins the team after serving as Head Coach of the Spring Arbor University men's soccer program for six seasons, where his accomplishments include one league championship title, two regular season titles and being named 2018 Crossroads League Coach of the Year.

Miller also features on tomorrow's webinar with The Coaching Manual.

As well as hiring a carefully-curated combination of coaching staff, Donovan will have to decide what the 'philosophy' of his new side will look like: what is the mission and vision of the club? What are the cultural values? What playing styles will translate from youth teams through to the first team? And how is this communicated and instilled through everyone on the payroll and in the stadium seats?

Book your place to hear Landon, Carrie, and Nate talk about Developing a Club Philosophy on our webinar tomorrow - exclusive to Standard TCM members and above, by clicking here.

To sign up for a Standard membership to The Coaching Manual for as little as £5/month, click here.