The time a coach gets to work with their players is so valuable and, in most cases, very limited.
Contact time can vary, some clubs will train twice a week at 1 hour and 30 minutes per session, whereas some clubs only train once a week for one hour.
The graphic below shows how much time a coach can realistically train their players through
an average season. The famous 10,000 hour rule for mastering a skill has largely been debunked, but let's take 2,000 hours as a very low estimate on how long it takes to become competent in any given activity.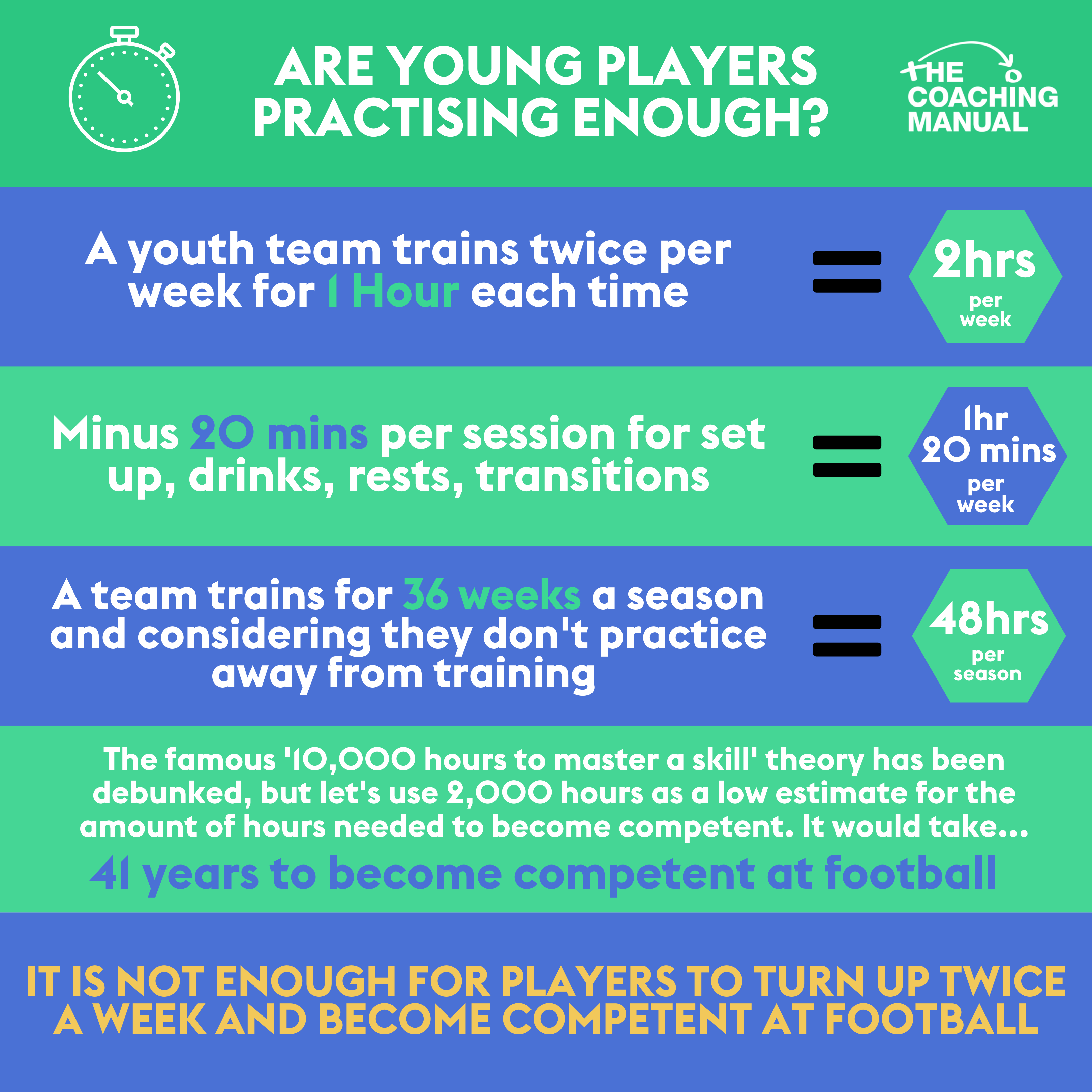 As you can see from the graphic, it simply wouldn't be possible for a player to reach such a standard in soccer with the structured hours afforded to them on the training field. The conclusion is simple: they must work on their technical ability in their own time.

Becoming technically competent at a young age is beneficial for both the coaches and the players.

Firstly, and rather obviously, the player's overall ability improves, which helps to enhance their enjoyment and performance levels in games and training.

Secondly, the whole team's training experience is improved as players will benefit from their teammates being more technically able. For instance, if a player attempts a 1-2 with a teammate, they will be more confident that they will receive the return pass.

Thirdly, if a small number of players in the team are technically incompetent it can hinder the flow of the session.

Finally, if players already have a good level of technical ability, it allows the coach to use their valuable/limited time to incorporate more expansive practices to improve their players' ability and refine these basic technical skills..

Based on the calculations in the graphic above, and assuming that players don't train whatsoever away from training, it would take a player who trains twice a week (for 1 hour and 30 minutes per session) roughly 24 years to reach a technically competent level.

Regardless of how much you agree with the theory behind these numbers, it does provide the suggestion that it's unattainable to think that every player in a team will reach that level of technical ability at a young age by just practising at the training ground. More is needed.

Individual Development Plans (IDPs) are the answer.

Even just the sight of those three words may put off some grassroots coaches. However, the benefits of players practising at home, away from training can't be understated.

They can allow players to:

Focus on improving weaker aspects of their skillset
Maintain a level of physical fitness
Become technically competent
Have their development tailored by their coach
For a grassroots coach, it may seem unnecessary, too time-consuming, or out of their price range to apply these plans at that level. However, TopTekkers possesses certain features which make IDPs more attainable for coaches at all levels.
The main worry for a coach is that they simply don't have the time to be creating individual plans for each of their players. It's often the case that coaches are parents who volunteer and dedicate the little spare time they have to plan and run sessions each week.
Hence, creating detailed IDPs for every player is unrealistic. TopTekkers, however, provides a solution. Individual Development Plans can be created for players within 60 seconds, which can then be tweaked further down the line dependent on each player's level of development.
In addition, coaches are able to monitor how much or how little each player is doing of their own accord. Also, the visually-pleasing development graphs show which aspects of their game the players are working on the most.

If coaches open the door to these IDPs, the required level of technical ability and practise time seems much more achievable.
To learn more about TopTekkers, visit www.toptekkers.club