Jimmy Greaves was a phenomenal and prolific striker whose name was often followed by "scores" during commentary.
Born in Essex in 1940, Jimmy Greaves was scouted by Chelsea and signed for the club in 1955. He played in their famous youth team, scoring 51 goals in his first season and went on to lift the FA Youth Cup in 1958.
At only 17, Greaves made his Chelsea first team league debut against his future club, Tottenham Hotspur, scoring in a 1-1 draw.
Despite Chelsea's inconsistencies, finishing no higher than 11th and as low as 18th in his 4 seasons at the club, Greaves was prolific in front of goal, scoring a sensational 124 goals while also being the league's top scorer in 1958/59 (32 goals) and 1960/61 (41 goals).
In the summer of 1961, after an approach from an Italian restaurant owner, Greaves signed for AC Milan after accepting around £7,000 per year. This increased his £1,000 yearly salary with Chelsea significantly. However, his time at Milan didn't go to plan, after he fell out with future Milan hero Nereo Rocco on numerous occasions.
Though a testing time with 'I Rossoneri', Greaves still scored an impressive nine goals in only 12 appearances, as Milan went on to win Serie A by five points ahead of their cross city rivals Internazionale. Unhappy with life in Italy, Greaves moved back to England to Tottenham Hotspur for £99,999, £1 shy of being the first £100,000 player in British history.
Greaves hit the ground running at Spurs, scoring 21 goals in 22 games for The Lilywhites. He continued to score goals throughout his Tottenham career, whilst also leading them to FA Cup victory twice, in "62 and "76, and European Cup Winners' Cup glory in their 1963 victory over Atlético Madrid - destroying them 5-1 as Greaves scored 2 goals.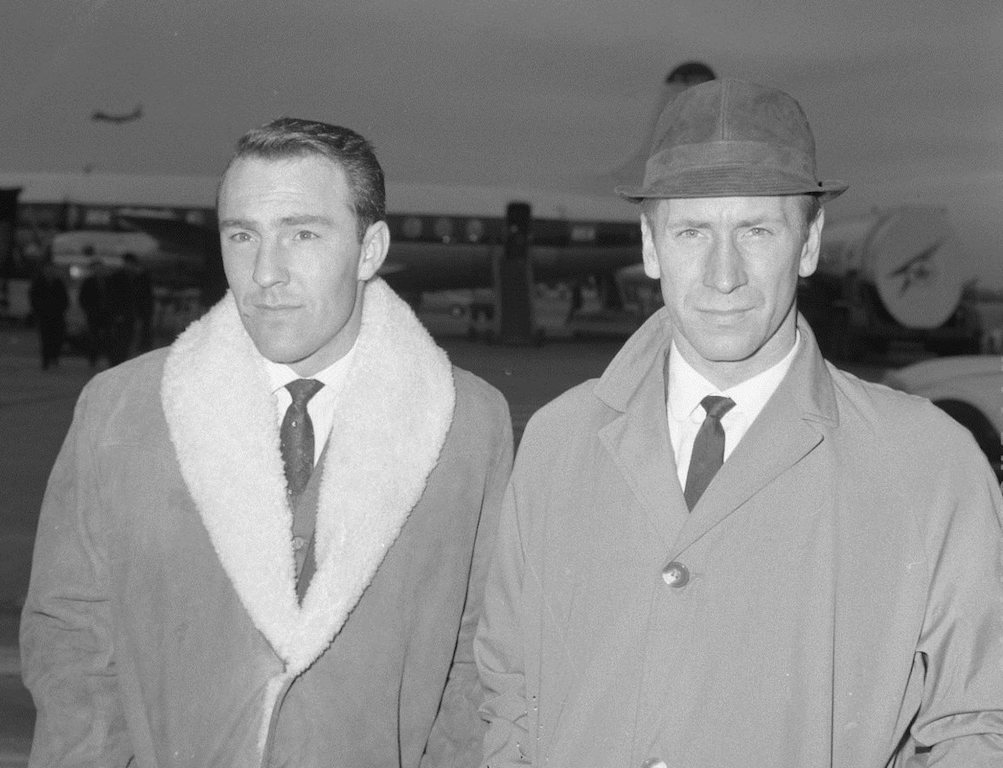 Greaves was also a pivotal figure in the national side for many years, scoring 44 goals in 57 appearances for England. He played in the 1966 World Cup in the earlier stages. However, in the last group game of the World Cup v France, Joseph Bonnel injured Greaves causing a terrible injury to his shin. This meant Geoff Hurst came into the side and took his opportunity, going on to score a hat trick in the final to help England win the 1966 World Cup.
In 1970 Greaves moved to West Ham United after a nine-year career at Tottenham Hotspur. Greaves's move wasn't as successful as previous years, however he still managed to muster 13 goals in his short-lived Hammers career.
Jimmy Greaves is arguably one of the greatest goal-scorers of all time. He had a unique sense of positioning, with an incredible ability to be in the right place at the right time. Comfortable finishing with both feet and he was known for placing shots rather than just trying to break the net.
The Coaching Manual has a series of drills suited to some of Greaves's best attributes, compiled here. Some of those attributes include:
Scoring Goals
Greaves's ability to score goals has been mentioned throughout the article - after all, he scored on every debut he made.
Crossing and Finishing
Greaves confessed he was "not great with his head", even though he scored goals in this way. He was a master of finishing from wide areas, by positioning himself intelligently to find the space to score goals. TCM's crossing and finishing exercise will help your players find good space to score goals from crosses.
Forward Runs
Jimmy Greaves was a front foot player. This meant that every move he ideally wanted to make was towards goal. Scoring goals was Greaves"s art, with this in mind, intelligent forward runs became a crucial aspect of his game.
In the forward run session we can see how you can encourage your players to move forward when your team is in possession.
The best goalscorer of all time?
Greaves scored a record 366 goals. Until recently, this was the most in goals in European football history and stood the test of time for 46 years. This was broken only in 2017 by Cristiano Ronaldo. To hold the record for so long only cements Jimmy as one of the greatest goal-scorers of all time.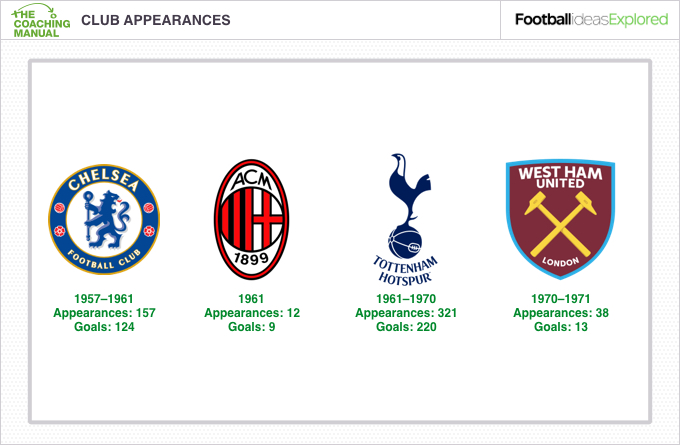 Greaves made 528 league appearances scoring 366 goals, this is a rate of 0.69 goals per game. In all competitions, Greaves scored 422 goals at a rate of 0.7 goals per game in 602 games. Greaves was also top goalscorer in 6 seasons in the English top flight.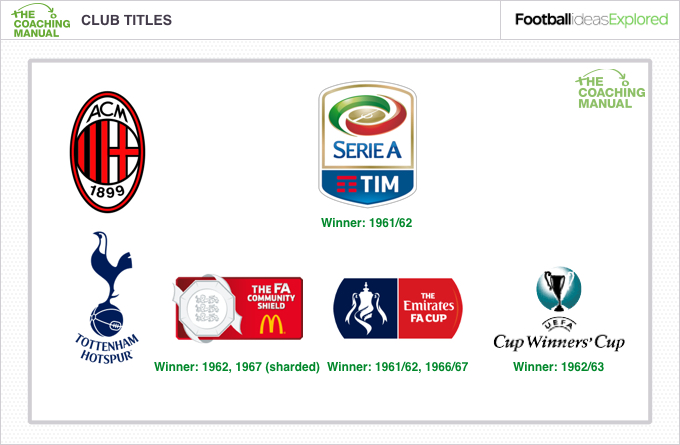 Greaves wasn't as prolific in trophies as he was in goalscoring. However, Greaves won several trophies in his career including the Cup Winners Cup. The victory over Atlético Madrid was the first European trophy to be won by a British team.
Greaves was as prolific for his country as he was for his club sides.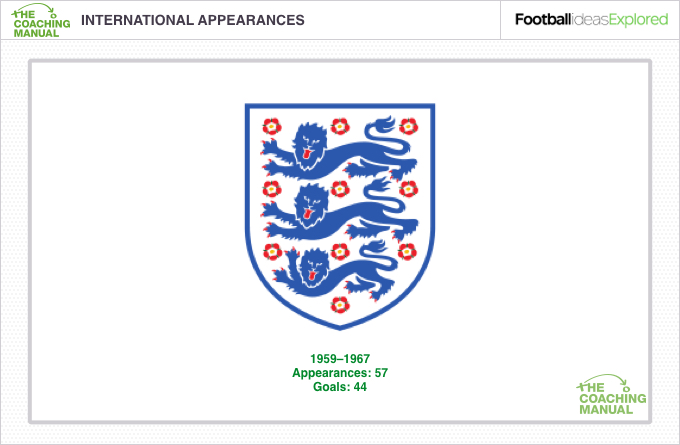 Scoring 44 goals in 57 games, Greaves is 4th in the all time goalscorers charts for England. Though 4th in the table, Greaves played nearly 50 games less than some of the players at the top of the charts, such as Wayne Rooney and Bobby Charlton.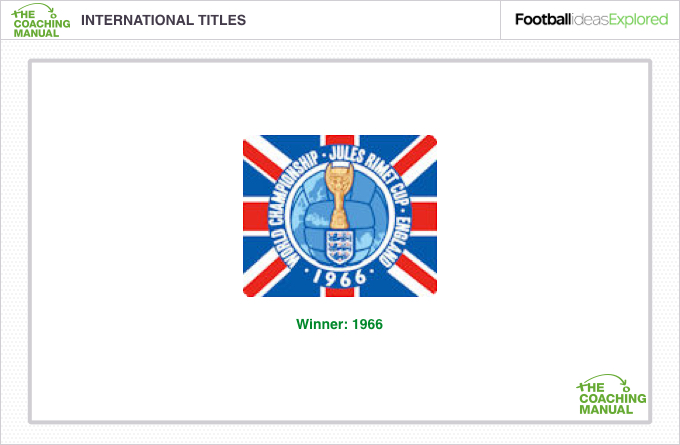 Due to the rules of the 1966 World Cup, only the 11 players that played the game received a medal for their victory. However in 2009 the FA petitioned to give Jimmy Greaves a winners medal to FIFA, which was duly given in the same year at Number 10 Downing Street.
Videos
Jimmy Greaves- English Football's Most Prolific Striker.